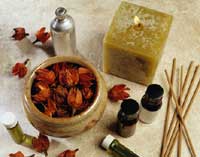 ESSENTIAL OILS - AROMATHERAPY
One of the most powerful, but the least utilized, senses among humans is the sense of smell. Humans have the capability to distinguish 10,000 different smells. However dormant, different smells have a profound effect on the human mind and body. Aromatherapy is a tested science that employs essential oils to stimulate our sense of smell and bring in positive effects on both mind and body. It is a natural, healing modality employing essential oils extracted from aromatic plant sources to treat and balance the body, mind and spirit.
Smell stimulates parts of our brain that control our emotions, moods, memory and learning. Smell reaches these parts of the brain through cilia, which are the fine hair lining the nose. However essential oils also work on the physical level. Research has validated that essential oils help our body fight against harmful bacteria and viruses, fungal infections, inflammation, rheumatism, toxicity, depression and much more besides the energizing effect they provide.
Essential oils are made of chemical compositions, which, when reach the brain can exert specific effects on the mind and body. Each essential oil has its own healing property. These oils can be used in isolation or in different combinations depending on the different levels - physical, emotional and mental where the healing is to take place. This science has been recognized for its potent effects and is used widely in medicine the world over. Aromatherapy is a non-physically invasive alternative stream of medicine offering remedies not available with traditional medicine.
HOW TO USE ESSENTIAL OILS
Essential oils are used for multiple purposes and applications. Essential oils are generally used in the following ways to utilize their therapeutic properties and dispensing their fragrances and scents:
Baths
Body and facial oils
Foot Bath
Handkerchief
Therapeutic Massage
Inhalation
Compresses
Room Spray
Showers
Sauna
Scented Candles
Humidifiers
Wood Fires
Hot Tubs
1. Body And Facial Oils
Essential Oils can be used to nourish the skin. For this purpose add one 1% essential oil to carrier oil and 3% for the body for an effective healing.
2. Foot Bath
To rest to your feet add 4 -5 drops of thyme, rosemary or peppermint oil in a large tub of hot water and keep your feet in the tub for 15 minutes.
3. Handkerchief:
To treat colds, headaches, pains and running nose it is advisable to drop 3 - 4 drops of eucalyptus or any other recommended oil on the handkerchief and inhale it frequently.
4. Therapeutic Massage:
These massages are used to trigger the natural healing process of the body. These massages stimulate the lymph fluid and blood circulation of the body. Massage also tends to act upon the emotional centre in the brain and affects our thinking process. For massage mix 1 – 3 % solution of oil to base oil and then massage the body.
5. Inhalation:
Steam inhalations can be used to treat colds and other respiratory disorders. For this purpose take a bowl of hot water, add 6 – 10 drops of essential oil. Now place a towel over your head and bend over the bowl such that you cover the entire bowl with the towel. Inhale deeply. This will help in clearing blocked respiratory passage.
6. Compress:
Hot and cold compresses can be used in case of back pains, sprains and to reduce swelling of the joints. Take a piece of cloth or towel and pour 5 – 10 drops of essential oil in hot water about 160 ml. Soak the cloth squeeze the water out and then place it on the ailing body part. Let it in this position for few minutes and when it turns cold remove it and repeat the entire process.
7. Hot Tub
Add 10 -1 5 drops of geranium, sandalwood or Ylang Ylang in the bath tub and then enjoy the hot tub.
8. Room Spray:
To make a room spray, add 10 drops of an essential oil of your choice with 100 ml of water add a preservative like pure alcohol. Shake the solution and than fill in a sprayer.
9. Sauna:
To detoxify and cleanse your body, add 2 drops of essential oil of pine or eucalyptus to 300 – 330 ml of water and throw over the coals of evaporation.
10. Scented candles:
Scented candles can be used to add fragrance to your room. You can alternatively add few drops of essential oils of your choice to an oil lamp to derive similar effect.
11. Humidifiers:
Add 5 drops of essential oil to a small bowl of water that should be placed on a radiator's top or to water of a humidifier.
12. Wood Fires:
Drops of pine, cypress or cedar wood can be sprinkled over logs of wood for some effect. But oil should be add an hour before lightning the fire.
13. Showers:
Soap your body and then rinse. After rinsing dip a wet sponge in essential oil and squeeze the sponge and now rub over your entire body while you are under the shower.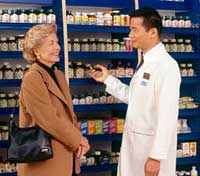 BUYING ESSENTIAL OILS
Purity and quality should be of utmost importance while purchasing or using essential oils. This is important since you would want to make sure you are using a naturally complete, whole, pure and true healing essential oil. The difference between purity and quality for oils is that pure oils are oils without any adulterations or additives. Quality here means therapeutic potency of the oil. Only genuine essential oils, which are pure and of high quality, can deliver the desired results. However, purity and quality come at a price. Again, a costly price does not guarantee the best essential oil.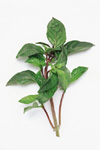 Sweet Basil is imported from France and is produced by distilling the leaves of the herb. However, its origins are in India and Hindus have used it for centuries in medicine. It has a slightly sweet licorice aroma.
Sweet Basil revitalizes the body and spirit by refreshing the mind and improving concentration, especially when tired-- a good nerve tonic after a stressful day.
Basil is beneficial for relieving headaches, migraines and sinusitis. Evidence also suggests that sweet basil essential oil helps with migraines.
Properties: Analgesic, Antidepressant, Antiseptic, Antispasmodic, Emmenagogue and truly uplifting
Uses: For treating Bronchitis, Colds, Constipation, Insect Bites, Mental Fatigue, Migraine, Nervous Tension, Rheumatism and Sinus Congestion.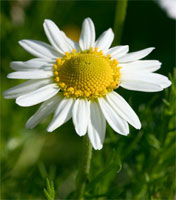 Chamomile German (Matricaria Chamomilla)
Chamomile Roman (Anthemis Noblis)
The Roman is well-known for its strong soothing effect on mind and body and is more expensive but superior to the Moroc. It is excellent for protecting dry skin and can be used to treat the nervous system, headaches, and menstrual disorders and is good for digestion, sore throat, sunburns and insomnia. It is a comforting oil during high pollen count and its flowers soften and lighten hair.
German chamomile or blue chamomile has a blue color from azulene, which is formed during the distillation of the oil and is an absolute.
The odor is sweet and adds a warm, long-lasting undertone in perfumes. It is gentle, soothing and calming and induces restful sleep and is also a powerful immune system stimulant. German Chamomile is particularly good for allergies, helping not only to relieve the immediate symptoms, but other problems caused indirectly, such as loss of appetite, stress, and aches and pains.
All the chamomiles are used in massage oils and herbal mixtures.
Chamomile is said to be calming without depressing and is used for treating anger.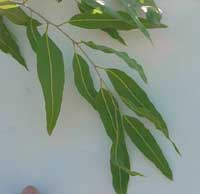 Eucalyptus has a camphorous and woody scent and is a powerful antiseptic, widely used in baths and massage during the cold season. Eucalyptus, especially the blue gum variety, helps with sunburn. It is good for nasal decongestion and blends well with Rosemary and Sweet Marjoram, which are the classic muscular ache oils.
Properties:
Analgesic, Anti-inflammatory, Antiseptic, Antiviral, Stimulant
Uses:
For treating Asthma, Bronchitis, Burns, Cuts, congestion, Flu, Headaches, Muscle Aches, Rheumatism, Sinusitis, Skin Ulcers, Urinary Infections and Wounds. Is an Insect Repellant and Air Disinfectant. Eucalyptus blends well with Juniper, Lavender, Marjoram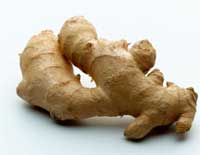 Ginger is a comforting oil and ideal for massaging on the muscles. It also eases pain in the joints. Ginger is good for treating nausea and sickness.
Properties: Analgesic, Antidepressant, Expectorant, and Stimulant.
Uses: For treating Arthritis, Bronchitis, Catarrh, Colds, Colic, Constipation, Diarrhoea, Exhaustion, Flatulence, Flu, Indigestion, Poor Circulation, Rheumatism and Sinusitis
Combines well with Cedarwood, Citrus oils, Eucalyptus
I DIDN'T REALIZE HOW MANY THERE ARE!!  So, I will be posting ALL of them tomorrow!  This is just a sample of many!